Description
Introducing the Disney Licensed Frozen II Elsa Motion Sensing IR UFO Helicopter! Featuring a coaxial rotor system for precise movement and increased stability when hovering. The UFO Helicopter body is also constructed with a durable material making it strong yet lightweight so you don't have to worry about breaking anything when it lands a bit too rough. Simply turn on and launch to get started, holding your hand underneath it will keep it hovering up in the air. When you're done flying try and grab it carefully and switch off the power! A must have for fans of helicopters, get the Disney Licensed Frozen II Elsa Motion Sensing IR UFO Helicopter today! 
Features:
Disney Licensed
Electric Powered
Durable Constructed Material
Easy to Fly
Master Hand / Eye Coordination
Advanced Infrared Hover Sensor Technology
Battery Charges with USB Charger

For kids ages 6 and up
Includes:
Disney Licensed Frozen II Elsa Motion Sensing IR UFO Helicopter
USB Charger
Secure checkout
Your payment information is processed securely. We do not store credit card details nor have access to your credit card information.
Customer Reviews
Great gift
It's definitely a hit for any kid that you want to gift. Gave it to a friend's daughter and to my nephew, they both loved it and I also played together for some time - it's awesome to get more than one so they can play with friends or just use one while the other one is charging - infinite playtime if so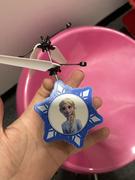 Good packaging and product
We've had it less than a week, the kids love it. I bought it for the 10 year old and she likes it but our 4 year old is absolutely enamored. Eventhough the plastic may look like it's going to be delicate, it's held up lots of bumps so far. The battery seems to last a good length, I haven't timed it. Anyway, it charges up fast it's not even a bother if it runs out quickly. Definitely getting some more so the kids can play with one as the others charge, that will be unstopable fun for sure.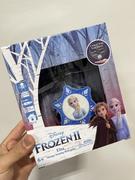 Not that much
I prefer the "extended" version where we have the whole action figure flying, this one doesnt look as cool as the other one. But well, this one has a better price
This mini drone is so much fun.
I bought several of these for my daughter's 12th birthday party sleepover. They were charged right out of the box which was a huge surprise and a very welcomed one as the girls couldn't wait to give them a try. They played with them for quite some time until they needed charging again. Then again in the morning before they went home! They make great party gifts!! Specially because the unnatended ones won't run into any walls because of the autopilot feature! There is a slight bit of a whirring noise when they're on because of the blades turning but you don't even notice because you're too busy playing with them!
Highly recomend!
my niece really loves this